The only thing more amazing than Queen Latifah having her own show is… well, nothing. But the only thing that comes close is watching Willow Smith perform her newest song "Summer Fling."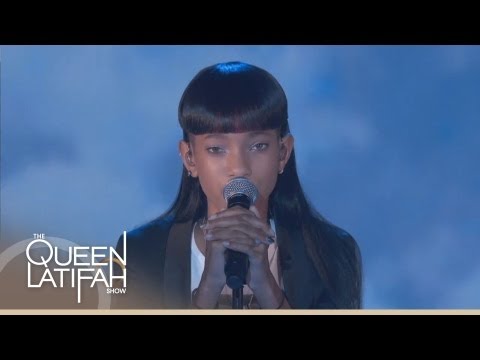 Is anyone still not over 'Whip My Hair?'  Willow Smith, offspring of Will Smith and Jada Pinkett Smith, was born in 2000, which 1) makes me feel old because I was born in 1991, and 2) makes me mega depressed because she is more stylish than I ever was at 13 years old. At 13, I think I was rocking braces and hair that made me look like Coolio (trust me, MissKLovelies, that is not a cute look) — **see picture below.
I mean seriously.. how do you wear this big ass Matrix-esque coat and not look psychotic… teach me your ways Willow!!
Even though Willow Smith's swagger is on a thousand right now, that doesn't mean that yours can't be too. I compiled this little list of items of MissKL that will help you step your style game up and give you a little of that coveted Willow Smith swagger.
We've got a gorgeous black and white all over blazer from One Teaspoon that would give Willow's a run for its' money. If the shoes are more your speed, check out the Adel Shoe by Jeffrey Campbell.
I like the simplicity of a nice clean graphic tee underneath the patterned blazer, and this one from RVCA is very similar. What I love about these pants isn't necessarily the cut, but the color, and we've got a pair from Glamorous that are a very similar sky blue.
Black and white is sort of the dream team of color combinations, so I am dying for this look. This top from Reverse isn't exactly the same, but you get the black and white colorblock that is so in right now!
Although I love a good basic black pant with a white pinstripe, I live for a bit of pattern, so I'll throw you a couple of black and white patterned pants options.
1. The Checkerboard Jean from Tripp NYC
2. The Holy Moly Grail Leggings from Hello Love
3. The Hallelujah Leggings from Hello Love
MissKLovelies, I beg of you! Take a page out of Willow Smith's book and give a big FU to fashion. I'm a big fan of her, not just because of what she wears, but how she does. She gets a lot of flack for being a little bit "out there" stylistically but if we aren't pushing the boundaries of fashion, then we'd all be wearing grey onesies and singing monotone robot music to each other or something terrifying.. and nobody wants that.
Do what you want, shave your head and dye it pink, wear the world's largest leather trenchcoat, just do you!