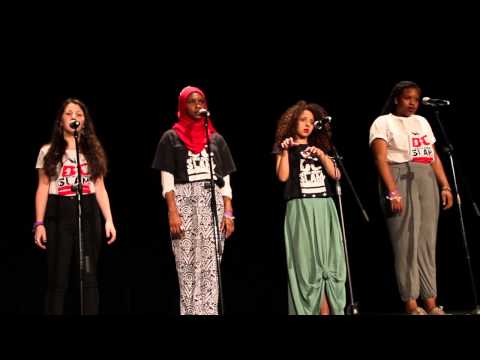 "Halloween has become a different type of freakshow. And all that I am don't fit prettily into polyester and spandex."
During the Brave New Voices Grand Slam Finals 2013 in Washington, D.C., round 4 seemed to blow everyone's minds away. The four incredibly talented women featured in the video from left to right are Hannah Halpern, Amina Iro, Reina Privado and Asha Gardner part of the DC Youth Slam Team. These talented poets portray a deeper message into women's costume stereotypes. That meaning is, that not all girls want or like dressing in bare-it-all Halloween costumes, but by all means… it's completely fine if you do. You can wear whatever you want to wear, as long as it's your choice and nobody should care. I mean I'm being a banana for Halloween and I could care less what anyone thinks.
I am just absolutely in love with the meaning of this whole performance because it's extremely powerful, and sends out an important message to all females. Watch this video, and you will see what I'm talking about. Also, feel free to show some love to these amazing women on Twitter, too!
Hannah Halpern (@hanhalp)
Amina Iro (@FlipsHijab)
Reina Privado (@PoetryAndCurls)
Asha Gardner (@AshaGPoet)