Boston, San Francisco, Schenectady – These are all the places experimental avant-R&B group Sonnymoon have called home since I've come to know them over the past few years.  The first time I saw Sonnymoon perform, it was around early 2010 in a basement in Boston's Allston neighborhood during a time in which Boston's DIY music scene was flourishing.  The Allston basement scene was integral to many local bands' starts; it served as a place for local artists to play for friends and new fans, and for touring bands to play for a room filled with people who cared more about hearing a bands' music than see how many (paying) fans that group could draw.  While many groups stayed confined to the literal underground scene,  Sonnymoon was one of the acts destined to grow beyond the garden-level venue.
Since catching them for the first time in that grimy basement, I've watched Sonnymoon upgrade to play in other not-as-grimy spots.  By Summer 2011, Sonnymoon had traded dark Allston basements like the late Wadzilla Mansion for spacious lofts in Boston's Leather District.  Soon after, they were opening for Brainfeeder head honcho Flying Lotus at Boston's Bowery-booked Royale,  relocating to San Francisco then Schenectady, NY and back to San Francisco, and in the meantime touring with artists like Teebs and B.Lewis, releasing an EP (2012) and a self-titled full-length, playing all over California, and hitting up Philly for a set at this year's Root's Picnic.  Front woman, Anna Wise even found the time to lend her trademark ethereal pipes to songs such as "Real," "Money Trees," and "Bitch Don't Kill My Vibe" on Kendrick Lamar's now Platinum album, good kid, mA.A.d city.
Earlier this month, I got the chance to catch up with Anna & Dane Orr, the founding members of the now 4-piece group, Sonnymoon, to talk about everything from where they're from to where they are, and where they're going.
Photo credit: Patti Miller (patti-miller.net)
I know you guys are from Boston and there's a great music scene here.  Can you tell us a little bit about how that might have shaped your sound or how you approach a live performance?
Dane:  I think one of the main reasons we wanted to be in Boston in the first place was because of all the people that were there, and obviously we (Dane and Anna) met each other there, so there you go.  The amount of people that are doing stuff that's kind of at the forefront of everything that's going on is very high compared to lots of other places.  Being in Boston, especially as an 18 year old was really, really stressful but also made me feel very inspired by all the other people there doing the same things.
Anna: It's such a large fish tank with so many different-sized and sparkly, colored fishes that you kind of have to like look at yourself and wonder what makes you special as a fish, you know?  I think that when we would do the Wadzilla shows with GBL GBL (now Born Gold), and bands like Dirty Dishes and Supervolcano,  it wasn't really the sound I think that was similar between us all but our intentions behind why we make music is similar, so we could really get along with those people and play shows with them.
Your music video for Every Summer Night recently premiered on MTV Hive and it's awesome.  Can you tell us about where it was filmed and how it was conceptualized?
Anna: We filmed it in the desert right near where Coachella is.  We took a bunch of our friends and drove out there to an abandoned gold mine, and it was like, super erie and really hot and really dirty and we were waiting around for a really long time, which is per usual.  I think everyone was a little bothered inside, but they didn't show it until they were being filmed, so we have a really incredible crew and cast of extras who just killed it in the video, I think they did such a good job.  They were all local people who we found who act on the side, so it was sick.
Dane: Adi (the director) came up with the idea for the video and implemented all of it.  He had the idea and really wanted to do it with us.  He was inspired by our music and by us being a band fronted by a woman and how people can get freaked out by powerful women – that's a definite theme in the video.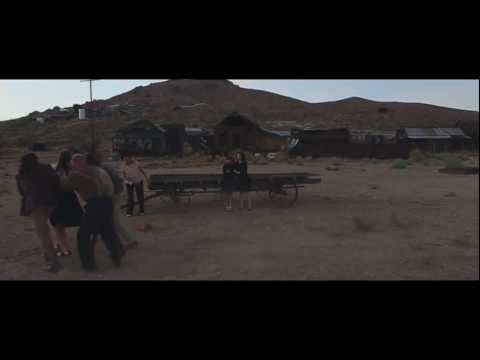 You guys have released your first album, Golden Age, as well as an EP called 2012 and a Self-Titled Full-Length.  What's next?
Dane: We're working on lots of new music right now which is starting to get really exciting.  Sooner rather  than later you're going to start hearing new Sonnymoon.  We can't quite tell you the form it's going to come in yet, but there's definitely new stuff on the way.   This is going to be our first record that features our drummer, Joe Welch, it's kind of a lot more ourselves than we have ever been.
You guys recently played the Roots Picnic and also went on tour with Teebs.   Anything cool coming up that we can look forward to?
Anna:  Yeah there's really cool stuff coming up.   We're doing a band show with Questlove on October 27th called Electronium: The Future Was Then.  We're not completely sure what that entails but we know we have 3 days of rehearsal before the show, so whatever that's gonna be, it's gonna be amazing.
Dane: That show is gonna be really cool cuz it's honoring pioneers in the electronic music scene like Bob Moog, Stevie Wonder, & George Clinton.  It's a synth-based show so we're really excited  to be part of that line up (How to Dress Well, Jeremy Ellis, Andrew Cyr).  The show's going down at the Howard Gilman Opera House in NYC – we're really excited, it's our first opera house show.
Anything else you guys wanna let our readers know?
Dane: Things are moving forward and we're excited for our new music.  Right now we're in a cool creative incubation stage – that's the general vibe at the moment.
—————-
To learn more about Electronium: The Future Was Then featuring Questlove, Sonnymoon, How to Dress Well, Jeremy Ellis, and Andrew Cyr, click here.
Listen to all of Sonnymoon's music at soundcloud.com/sonnymoonmusic.