Like feminine peplums and dainty macaroons, nail art, the supposed last bastion of female-centric beauty, is having a major moment in fashion right now. With the help of YouTube tutorials and beauty loving bloggers, styles like swirling tie-dyes and micro-detailed nail wraps have made expensive looking manicures an easy and cheap stay-at-home activity. Now, giving you just one more way to save that $35, snuggle up with your Netflix, and get a salon-worthy look all in the same breath, are LAQA & CO.'s nail polish pens. The nail polish pens come in a variety of shades and sport a small, straight brush that lets you get nice and close to your cuticles. Check out the tutorial we found below for some quick tips on how to use the polish: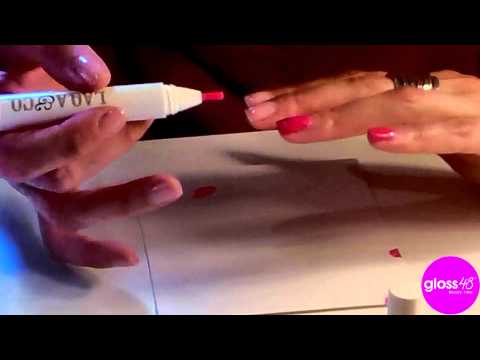 Aside from its practical usage, LAQA & CO.'s pens also come in awesomely unique packaging. Each sleek and feminine tube is placed in a box designed by an up-and-coming artist to reflect the shade. My personal favorite, Bells & Whistles, comes in a package designed by Thai artist Pomme Chan whose delicate and eccentric felt-tip prints can be found here.  Aside from the awesome visuals, Bells & Whistles gives you that picturesque bad girl vibe without being the outdated black polish of yesteryear.
And if you're not a nail girl, don't pout. LAQA & CO. has a fat lip pencil in our favorite seductive shade of red waiting just for you (on second thought, pouting may not be such a bad idea).