Getting creative when it comes to painting your nails is a growing trend right now. People are constantly looking for more ideas for ways they can spice up their manicure and we are going to show you how to do just that! We recently got in some amazing bright, pastel and glitter nail colors by Pop Beauty. With summer right around the corner we are going to show you some fun and easy ways to make a statement with your nails without having to pay at the nail salon.
Some of the more popular looks that are being seen in the media lately are ombre, alternating colors and water-marble nails. We are going to show you how to accomplish these looks!
Look #1: Bright Colored Glitter Ombre Nails
Step 1: Using the Ablaze neon orange polish by Pop, paint on two coats.
Step 2: Once you have finished two coats of this color and your nails are dry, using ncLA's "Hollywood Hills Hot Number" silver glitter polish, start painting it on at the top of your nail. You want to make sure that you continue to overlap the polish at the top and then work your way down your nail until you've achieved your desired look. It is important to keep in mind that in order to get the faded/ombre look you must use a lot of glitter at the tip and progressively fade it out using less and less glitter as you move downwards. (The amount of glitter needed may vary depending on the size of your nail beds.)
Step 3: Let dry and then apply a clear top coat!
You can use any nail color and glitter combinations you choose, we just decided to go bright for summer! We also tried out this look with purple and blue glitter: Aquatic Glitz and Lavender Glitz.
—

Look #2: Bright Colored Water Marble Nails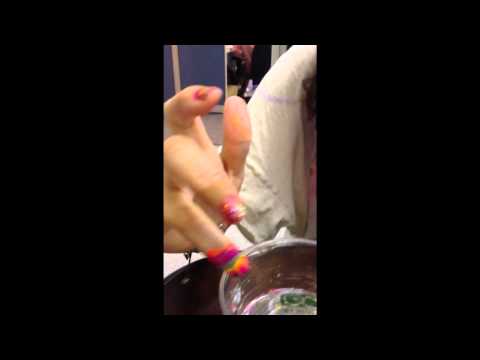 In order to get achieve this look you will need to use at least four different polish colors. We decided to go bright again, but any color combinations will work! We used Ablaze, Grass, Mandarin, and Violetta — all by Pop.  Below are the steps to go along with the video tutorial.
For this look you are going to need some additional supplies aside from the polish. Here's what you'll need:
Cup filled with lukewarm water
Toothpick
Q-tips
Nail polish remover
Cotton balls/paper towels
Step 1: Using each color, take out the brush and drip a drop into the water. Repeat this about four times with each color. (Please note: you want to make sure to drip each color into the center of the previous color drop.)
Step 2: Using your toothpick, drag it through the colors in the water until you reach a desired marble look.
Step 3: Dip your finger into the center of the polishes and leave it in there for about a minute.
Step 4: While your finger is still in the water, take a Q-tip and clean up all the access polish in the water.
Step 5: Pull out your finger and clean up the access polish around your nail.
Step 6: REPEAT FOR EACH NAIL!
At the end use a top coat to polish off the look or add glitter to a random nail for an even crazier look.
—
Look #3: Alternating Color Nails
If you want to get a fun look without having to do extra steps you can easily paint each of your nails with a different color! Below you can see we just used the bright colors and alternated them on each nail. This is a quick and easy way to achieve a great look if you don't have the time or the patience for the others.