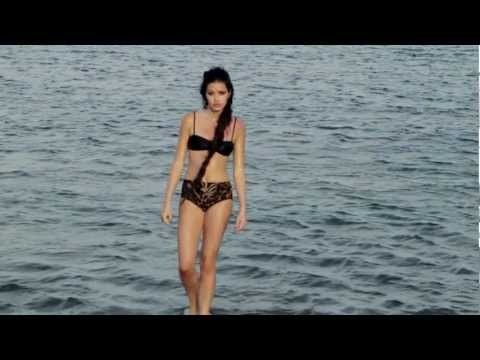 KTV caught all of our Nuclear Summer: Swim 2012 lookbook action on film, showing that everything from the accessories to the lighting and the landscape evoke an eery sense of beautiful creatures surviving some worldly disaster. Stylist LIL GOVERNMENT on the production:
For this lookbook, "Nuclear Summer" conjured up a bleak, dreamy and post-apocalyptic mood, shaped by both the expansive, futuristic beaches of Deer Island and washed out, natural color palette of the season's swimwear. Our girls walked the shores searching for remaining life on the planet, retreating into the cold water as the sky darkened.

My two favorite shots for the day were Danielle (the blond) coming out of the rocks wearing the seaweed and sturgeon skull headpiece, and also the shot of Isabela (brunette) with her hands on her face coming out of the water, which has a voyeuristic quality. Both images brought me right into the moment…

I love the way the black Cheap Monday bikini top looks with the leopard print Costume Dept. high-waisted bottoms. The bottoms are cut perfectly at both the leg and waist, making them eternally flattering to just about any body type. Also, the mint-green printed bustier bikini is ideal for the small-busted woman, and the galaxy print on the cutout one-piece is divine.
Wondering how they got the models' hair to hold those perfect beach waves? Hairstylist Kara Hurston, of Shag salon, suggests using a surf spray: "I like to use the Apres Beach spray by Oribe. You can spray it on once it's dry and it will create a little shine and enhance the curl."
Watch the swim selections in motion above and check out the full lookbook below.