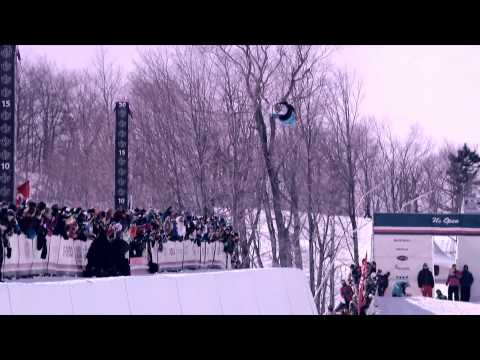 Danny Davis and Hannah Teter look like snowboarding gods standing at the top of the 500 foot super pipe in Stratton, Vermont. What is going through their minds before they make the great descent into the pipe, hoping to catch a nice line on the drop, and some big air to pull of those gnarly tricks?
KarmaloopTV has teamed up with Burton for a video series where the pros spill it all: how they pump themselves up and mentally prepare to get in the zone for those competitive runs. KTV spent four days up at the Burton 2012 US Open in Snowboarding at Stratton Mountain in Vermont, where they got up close and personal with 11 pros in this year's big air, slopestyle, and of course, super pipe competitions. The four "Burton snowboard elements" captured in videos include the drop, the void, the echo, and the soul.
Snowboarding embodies the verge culture that Karmaloop CEO Greg Selkoe knows and loves. "Snowboarding rewards not only for technical mastery but just as importantly for style, truly the sport's most exciting and awe-inspiring element to which both professionals and weekend enthusiasts can equally relate," Selkoe said. On that note, we'd love to hear why Shaun White's pants are so tight…
"The Drop" (above) was released yesterday, and today you can expect to see "The Void" at 3pm EST. While the former focused on the snowboarder's pre-ritual, the latter explores the full state of emotions the pros experience during a run: when they're crossing the pipe to defeat gravity and soar into the air, sticking out a landing, and racing to the next hit. Nothing is more invigorating than strapping a board to your feet, and racing down the mountain spinning, grabbing your board, and occasionally eating it, hard.
"The Echo" will focus on the riders removing their headphones and snapping back to reality amongst screaming fans at the end of a successful, or not so successful, run. Either way, their hearts are pumping. "The Soul," the essential element of the snowboarder, is the lifestyle, the inspiration, and that buttery feeling of powder under your board.
It's time to get personal with our favorite riders — Danny Davis, Jack Mitrani, Enni Rukajärvi, Hannah Teter, Ulrik Badertscher, Seepe Smits, Ellery Hollingsworth, Kelly Clark, Benji Farrow, Elena Hight and Zak Hale — and watch some well-deserved snow porn to reminisce about the past season.
Stay steezy!
– Sydney Lindberg