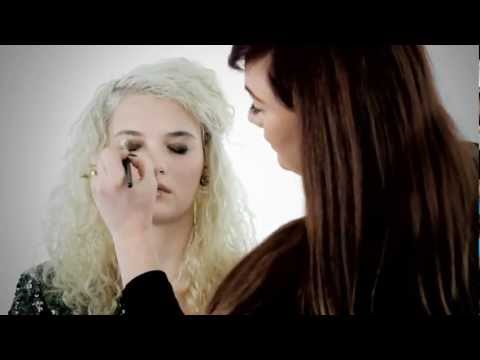 Karmaloop is getting in the beauty game with our friends over at New Brahmin and we are thrilled to show you this tutorial series! Jeannie Vincent and Rose Fortuna team up on the challenging smokey eye, illustrating 2 ways to achieve the sultry, come hither effect. Sport a soft look or amp it up with a dramatic application.

What you need:
Dark brown gel eyeliner (we used Stila Smudgepot)
Shimmery brown chocolate eyeshadow
Dramatic smokey eye brushes: flat shadow brush, blending brush, flat eyeliner brush
Soft smokey eye brushes: thin pencil-like brush, tapered dome brush, flat shadow brush
For Rose's dramatic eye, perfect for a night out, start with applying a cream-based primer allover the lid with a flat eyeshadow brush. This will prevent creasing throughout the day and/or night, not to mention it keeps the intense color in place. Next, fill in the lid up until the crease (not through it!) with your gel liner, using the same flat brush. Don't worry if you get messy, we are trying to achieve that smudgy, slept-in look. Take a blending brush and buff out the color along your crease, disguising that sharp line denoting the color and your upper lid. Alternate applying color and then buffing out.
To give some sheen and dimension, pile on the shimmery chocolate shadow over the gel. Continue to smooth out harsh lines with the blending brush. To balance out the heavy look, take a flat eyeliner brush and apply right along the lower lashline. To polish off the look, use black eyeliner on the lower-lash waterline. Finish off with mascara; roll the brush through your lashes for volume — same effect as using a round brush on your hair! Va-va-voom!
For times when a really bold eye isn't appropriate, we think trying out Jeannie's soft smokey is a must. Still giving that "diffused" look, this application is subtle and romantic. What's the difference you might ask? The absence of black liner!
Use the same gel liner as the previous look and thicken up around the lashline with a skinny, pen-looking brush. The focus of this technique is to keep all the color along your lashline — no product above the crease or on your upper eyelid. To soften up the look, apply the chocolate shadow right along the existing gel liner with a tapered dome pencil brush. Again, to balance out, dust shadow along the lower eye. Finally, take a flat eyeshadow brush to blend out the color on your lid.
Add a coat of black mascara (makes the white of your eyes pop) and you're good to go!
Stay tuned for more tutorials in the near future, and if you have any tips or tricks you'd like to see featured, hit us up at blogsubmission@karmaloop.com with the title "Beauty Tutorials."
Model Tessa is wearing the One Shoulder Sequin Mini Dress in Olive by Blaque Label.