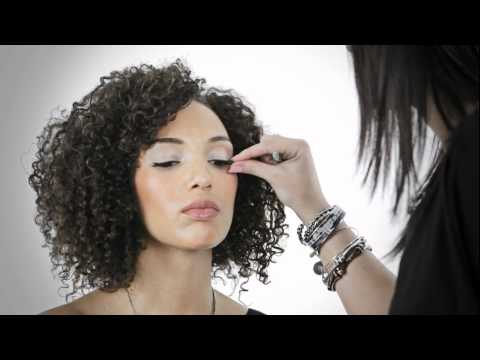 Karmaloop is getting in the beauty game with our friends over at New Brahmin and we are thrilled to show you this tutorial series! Watch as makeup artist Jeannie Vincent demonstrates how to prep a shimmery lid before she conquers our greatest beauty fear: false lashes!
Jeannie is a pro at two things: making people look incredible and spewing out hilarious one-liners 24/7. She patiently applied individual falsies to our gorgeous model Lealyn, showing us that those spikey things aren't as intimidating as they appear. Perfect for going out, or making the world think you look great after going out when you really just want to sleep, these lashes are kind of a game changer in opening up eyes.
Lucky for you, we've got the insider's step by step routine for applying faux fringe…
You will need:
eyeshadow primer
concealer brush and either a pencil brush or angle brush
neutral beige eyeshadow
dark gel liner, like Stila's Smudge Pot
tweezers
black eyelash glue
individual false lashes
mascara
Start off by applying eyeshadow primer to your entire lid with a concealer brush. Jeannie stresses the importance of primer with any eye look you attempt! (I agree 100%.) Then fill in your entire lid with a neutral beige eyeshadow (shimmery optional). Concentrate the color on the inner corner of your eye and brow bone.
Take a pencil or angle brush and thinly apply gel liner from inner corner of lashes to outer. The power of gel formula lies in the fact that it is long wearing, going from day to night easily — it is also easy to manipulate into either a natural or dramatic look. Use mascara on your top lashes to start building that fringe! Though experimenting with colored liner and mascara is fun and encouraged, there is no denying that black mascara gives the most definition and makes the white of your eyes brighter.
Place a dab of eyelash glue at the corner of your lash tray. We like black because when it dries it doesn't stand out along your lash line. Use about 10 lashes total on each eye, strategically placing varied size lashes to achieve your desired look (we recommended shorter on the inner corner of eye, working out to larger at the outer corner).
Use the tweezers to gently grab the cluster of lashes off the tray, then dip the knot into your glue. Pick up about a pin-head amount (just a dot) and place the lash right on the ledge where your natural lashes grow out, in between and right on top of them.
Finish everything off with a final coat of mascara to seal your lashes! Added bonus: it melds the false lashes with your own for a super authentic look.
You've conquered one of the most challenging beauty tasks, congrats! Consider this a building block for more adventurous ideas — we'll have your doe-eyed peepers prepped for the wild side of cosmetics further in our series.
Model Lealyn is wearing the Wax Drip Necklace in Antique Gold by Obey and the Farah Dress from *LA Boutique.