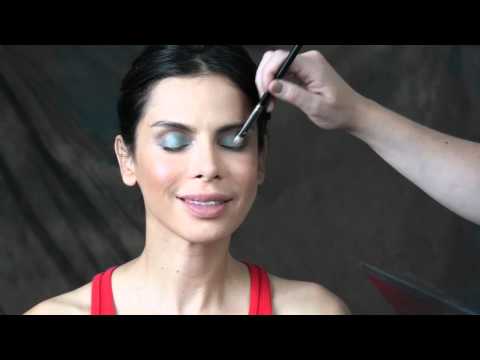 Here at Karmaloop, we view our make-up much the way we view our clothes–as a means of self-expression!  We love to change up beauty routine as it suites the season, our outfits, even our mood! I must admit though, when it comes to jewel-toned eye shadows, I get a bit timid. After all, the circus clown look is never a good one!  In this week's beauty tutorial, Stefanie shows us a sophisticated way to add a pop of color to our eye make-up.
Check out the video and follow these simple steps for a glamorous eye:
Foundation:
1. Use a sheer to medium foundation- start around the nose area (where skin tends to be more red) and work your way out.
Bronzer & blush:
1. Apply bronzer in the shape of a 'c' on the cheeks to add contour to cheekbones.
2. Use a creamy pink blush to create a dewy glow on apples of cheeks.
Eyes:
1. Start with a eye shadow base to mute natural pigment of eyelids.
2. Apply a blue/teal color shadow all over lids.
3. Add a warm brown into the crease to contour the eye and soften the bright color.
4. Pop a highlight into center of lids to add extra dimension.
5. Finish the eye off with a thin black liner & load on the mascara!
Lips:
1. Use a sheer to medium lipstick or gloss that enhances the natural pigment of your lips–nothing too opaque!